Top page > From NRIB > Operations of NRIB for the Great East Japan Earthquake

Operations of NRIB for the Great East Japan Earthquake
---
After the accident of the Fukushima Daiichi Nuclear Power Plant in March 2011, NRIB is carrying out following operations to keep the safety and reliability of alcohol beverages for consumers and to provide sufficient information for producers. These operations are carried out in cooperation with the National Tax Agency, which is responsible for the quality and safety of alcohol beverages in Japan.
Analysis of alcohol beverages and their raw materials to determine the concentration of radioactive nuclear species (Cs and I).
The analytical results are used for the certifications of exported alcohol beverages from Japan, when it is needed. The anonymous results are publicized in the web site of the National Tax Agency. Up to November 30th 2014, 9534 items were analyzed, and none of them exceeded the standard limits for radioactive cesium.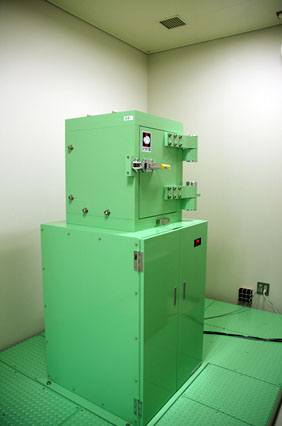 (Photo, Ge gamma-ray spectrometer)
The results of these operations contributed to the decision of EU that alcohol beverages are excluded from the special condition for imported foods originated in Japan from 30 October 2012 by Commission Implementing Regulation (EU) No 996/2012.
In addition to the analysis mentioned above, following researches are carried out at present.
Transfer of Cs from grape to wine.
Researches on beer and Umeshu (liqueur made with Japanese apricot).
(Link to)
Information on the Great East Japan Earthquake from Ministry of Health, Labor and Welfare.

The Great East Japan Earthquake, Ministry of Agriculture, Forestry and Fisheries.
---
National Research Institute of Brewing